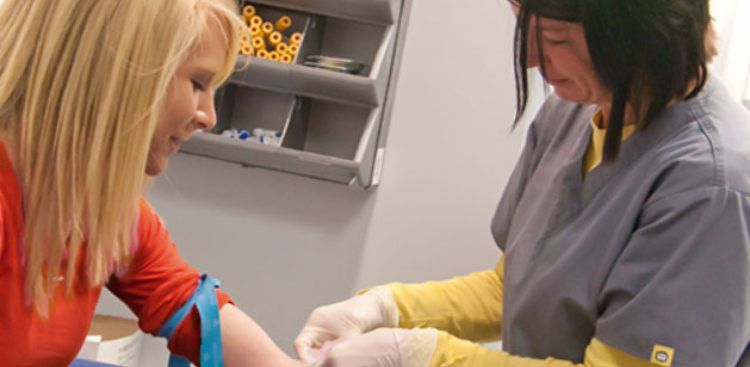 Next Start date: Revolving
Duration: 7 Weeks
Level: Beginner
Location: On-Site, Externship Location
All of our phlebotomy training classes are comprehensive and emphasizes a "hands-on" method – each student will draw blood at least once in every class. These draws will be performed with supervision on other class members. Our instructors will guide you as you learn a variety of phlebotomy techniques. In addition, you will learn the "tricks of the trade" that will help with special patients and difficult draws.
Our Phlebotomy Program provides the student with skills and training in order to succeed as a phlebotomist. This course contains 6-weeks of lecture, discussion, and practical instruction in the lab, followed by a 40-hour clinical externship at a local patient service center, hospital or clinic. The hours of the externship are site-specific but are usually done over the space of one week, Monday through Friday. This is a larger time commitment but the externship is a valuable clinical experience. Please contact our office if you have any questions about course requirements or time commitments.
Our experienced instructors will guide you as you learn a variety of blood drawing techniques, safety standards, basic anatomy and physiology, and other areas such as:
Phlebotomy program content includes:
HIPAA and Patient's Rights
Universal Precautions and Safety
Venipuncture with Vacutainers, Butterflies and Syringes
Finger and Heel Sticks
Blood and Blood Components
Medical Laboratory Terminology
Test Tubes – Uses, Additives and Order of Draw
Professionalism
Special Procedures - Bleeding Times, Blood Cultures, Glucose Tolerance Testing
Difficult Draws – Tricks of the Trade
Phlebotomy Program Admissions Requirements:
18 Years of Age or Older
High School Diploma, GED, or International High School Diploma Equivalency
The 7-Week phlebotomy program consists of the four following parts:
| Lecture | Skills Lab | Assessments | Clinical Externship |
| --- | --- | --- | --- |
| Two sessions per week for 6-weeks. Each session is 4 hours and features about 2 hours of lecture each session. | Introduction to the lab with hands-on skills and live venipunctures. | 4 quizzes based on chapter material are required and given throughout the program. | After completion of the 6-week on-site portion, a 1-week clinical externship will be assigned. |
| Material is presented by a qualified and state approved instructor. | Mechanics of equipment and specimen handling are taught alongside techniques of venipuncture. | A comprehensive multiple-choice final examination is given prior to externship. | Students must complete all 40 clinical externship hours to be awarded your certificate. A booklet is provided for assessment and hours logging. |
| A book is provided to you for reference during and after the program. | A focus on professionalism and patient care prepares students for the real-world setting. | Final skills evaluation on venipuncture technique and professionalism is performed prior to externship. | Various factors are considered in externship placement, including progress in the program, payment compliance, attendance, and student preference. |
The following is the break-down for tuition and fees for the Phlebotomy program.
Registration Fee: $50
Tuition: $500
Laboratory Fee: $150
Books and Supplies: $100
Externship Fee: $100
Registration fee is due to hold your seat in the program and is nonrefundable after 3 business days
Externships are performed at clinical facilities which have agreed to partner with STLSP to provide students with the opportunity to not only fulfill the required clinical hours, but to interact with patients and other healthcare professionals in a real-world clinical environment where skills are put in context. This placement is completely coordinated by STLSP's externship coordinator and students are assigned to sites based on a number of factors, including attendance, payment compliance, progress in the program, and student preference. Students should plan on having a full week of availability the two weeks immediately following the end date of the class in order to attend externship, which is performed Monday through Friday during the operational hours of the clinical site, which typically fall somewhere between 6am to 6pm.

Externship placements are throughout the greater St. Louis area and the states of Missouri and Illinois. The requirements of each clinical facility vary but typically include a TB test, drug screen, criminal background check showing no crimial history, while others may also have additional requirements such as a lab coat, health assessment, immunization records, or other records.
The St. Louis School of Phlebotomy is approved to operate by the Missouri Department of Higher Education. Students who have successfully completed the Phlebotomy Program will be given the option to sit for an accredited national examination through the National Healthcareer Association (NHA) to become a Certified Phlebotomy Technician (CPT). This is optional and employment is not contingent upon successful completion, although it may make an individual more competitive in the job market.
| TESTING DATE | EXAM TIME | REG. CLOSES |
| --- | --- | --- |
| CPT - October 22, 2023 | 5:00pm | October 12, 2023 |
| CPT - November 17, 2023 | 5:00pm | November 07, 2023 |
| CPT - January 12, 2024 | 5:00pm | January 02, 2024 |
| CPT - December 10, 2023 | 5:00pm | November 30, 2023 |
Payment plans are available to divide the cost of the program over the time you are enrolled. These plans are provided at no additional cost and available to all students. You can choose one of the three payment plans listed below to pay for your enrollment in the Phlebotomy program at STLSP:
| | Plan A | Plan B | Plan C |
| --- | --- | --- | --- |
| Registration Fee | $50 at Registration | $50 at Registration | $50 at Registration |
| Week 1 | $425 | $150 | $300 |
| Week 2 | $85 | $140 | $0 |
| Week 3 | $85 | $140 | $300 |
| Week 4 | $85 | $140 | $0 |
| Week 5 | $85 | $140 | $250 |
| Week 6 | $85 | $140 | $0 |
One of the major factors to consider when pursuing education in any field is the what the hiring market looks like for students after graduation. While no school can guarantee that graduates will find a job, STLSP is committed to providing career assistance services that will guide the student through the job application process.
| Quick Facts | Phlebotomists |
| --- | --- |
| 2015 Median Pay | $31,630 per year ($15.21 per hour) |
| Typical Entry-Level Education | Postsecondary nondegree award |
| Work Experience Required in a Related Occupation | None |
| Additional On-the-job Training Required | None |
| Number of Jobs (2014) | 112,700 |
| Job Outlook (2014-2024) | 25% (Much faster than average) |
| Employment Change (2014-2024) | 28,100 |
Data Table From: Bureau of Labor Statistics, U.S. Department of Labor, Occupational Outlook Handbook, 2016-17 Edition, Phlebotomists, on the Internet at http://www.bls.gov/ooh/healthcare/phlebotomists.htm (data retrieved September 11, 2016).
Upcoming 2023/2024 7 Week Phlebotomy Schedule
PLB classes meet twice a week for 6 weeks / CPT classes meet twice a week for 7 weeks and DO NOT have an externship week.
STLCPT Saturday/Sunday Afternoon 1:00 PM - 5:00 PM
CLASS/ID
START DATE
END DATE
SEATS
CPT 6317
June 03, 2023
July 16, 2023
Closed
CPT 6318
July 22, 2023
September 03, 2023
Closed
CPT 6319
September 09, 2023
October 22, 2023
Closed
CPT 6320
October 28, 2023
December 10, 2023
Open
STLCPT Wednesday/Friday Afternoon 1:00 PM - 5:00 PM
CLASS/ID
START DATE
END DATE
SEATS
CPT 6321
February 01, 2023
March 17, 2023
Closed
CPT 6322
March 22, 2023
May 05, 2023
Closed
CPT 6323
May 10, 2023
June 23, 2023
Closed
CPT 6326
October 04, 2023
November 17, 2023
Open
CPT 6327
November 29, 2023
January 12, 2024
Open
STLPLB Monday/Wednesday Evenings 6:00 PM - 10:00 PM
CLASS/ID
START DATE
END DATE
SEATS
PLB 6294
June 26, 2023
August 02, 2023
Closed
PLB 6295
August 07, 2023
September 18, 2023
Closed
PLB 6296
September 25, 2023
November 01, 2023
Closed
PLB 6297
November 06, 2023
December 13, 2023
Open
PLB 6298
December 18, 2023
February 05, 2024
Open
STLPLB Tuesday/Thursday Afternoon 1:00 PM - 5:00 PM
CLASS/ID
START DATE
END DATE
SEATS
PLB 6302
June 06, 2023
July 18, 2023
Closed
PLB 6303
August 01, 2023
September 07, 2023
Closed
PLB 6304
September 12, 2023
October 19, 2023
Closed
PLB 6305
October 24, 2023
December 05, 2023
Open
PLB 6306
December 12, 2023
January 18, 2024
Open
STLPLB Wednesday/Friday Mornings 9:00 AM - 1:00 PM
CLASS/ID
START DATE
END DATE
SEATS
PLB 6310
May 31, 2023
July 07, 2023
Closed
PLB 6311
July 12, 2023
August 18, 2023
Closed
PLB 6312
August 30, 2023
October 06, 2023
Closed
PLB 6313
October 18, 2023
November 24, 2023
Open
PLB 6314
November 29, 2023
January 05, 2024
Open
ST. LOUIS SCHOOL OF PHLEBOTOMY
2021